Consider this: A Christian-based company that's out to make profit.
At first glance, a statement like that seems contradictory.
How do you serve God by making a profit?
When I met with the folks at Eastern Industrial in Greenville, South Carolina, I learned how these two statements can work together.
Eastern sees their profit as a force to be used for the greater good. Of course, a percentage is used for building and expanding the business, returning to shareholders and paying their valuable team members.
But it's also used to build orphanages and schools in Tanzania.
At Eastern, profits are a vehicle for employees to give back in ways that they might not have been able to do otherwise.
And all the energy and caring that this distributor is giving externally—to help make their local community, their country and world a better place—they're putting the same amount of effort and energy into caring for their people, their associates as they're called, and their customers.
Episode 7 of We Supply America, our eight-part docuseries, tells Eastern Industrial's story.
Business is Caring
Eastern Industrial began in 1980 and specializes in all things commercial plumbing. This independently owned and operated company now reaches into six states.
As a distributor first, customers are, and always have been, important. And the leaders at Eastern use 28 guiding principles to define every interaction.
"You run into problems. If there's meaning in business, there are going to be problems. But if there's an understanding of what the expectation is, there's always something to go by," said Paul Wilson, branch operations manager.
These guiding directives are part of the "Eastern Way." A few of my favorites include:
Give Back
Care Deeply
Check Your Ego at the Door
Do the Right Thing, Always!
Lead by Example
Be Positive
Anticipate Change
Keep Things Fun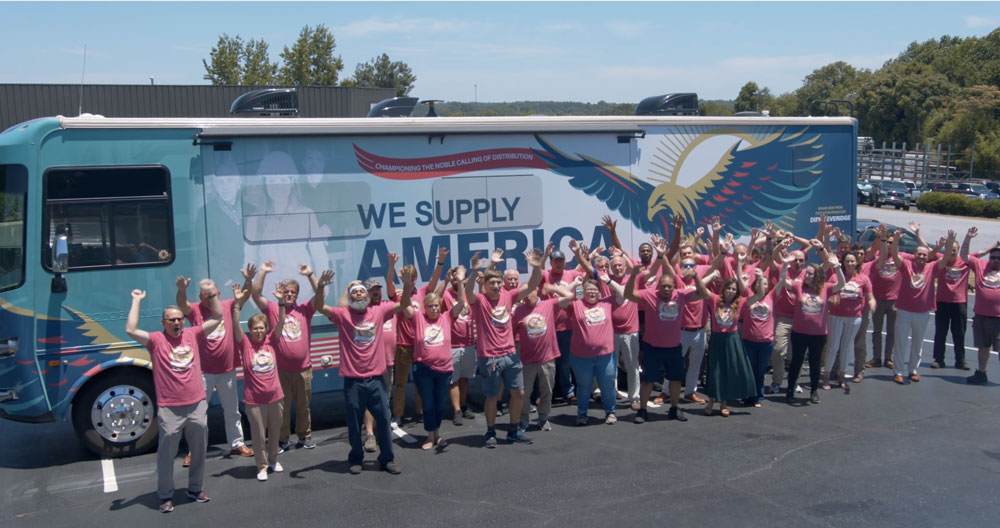 Culture Can't Be Replicated
"Other people can have the same products. They can have about the same price. They can replicate service. But what other companies can't do is replicate culture." That's according to Kip Miller, President and CEO.
Companies can't replicate culture.
Companies are like people in that way. We might share the same hobbies, passions or even goals, but how we go about accomplishing those things or treating others—the very things that make us who we are—cannot be replicated.
At Eastern, this culture of caring extends beyond their excellent customer service. At the heart of their culture is their people.
The employees at Eastern are called associates—all of them.
"We want to make sure that people know that they're cared about and that they're actual people … and if we do that, then we're successful," said Megan Owen, vice president of organizational effectiveness.
There's no greater example of this at Eastern then the story of Kelly Dillavou, an associate in accounts receivable.
In April of 2021, Kelly found out she had cirrhosis, which leads to liver failure.
Although she was able to continue working for the first few months after her diagnosis, her symptoms quickly worsened, and she eventually had to take a leave of absence while she hoped for a new liver.
"Eastern was there the whole time, supporting me," Kelly said.
Some people at the company would hold prayer time before weekly meetings, reserving the space to pray for Kelly.
Then, in October, she got her transplant.
Now, she's back in accounts receivable, with her Eastern family.
Simply saying that you care for your employees is one thing, but acting to make those words a reality is what Eastern does best.
David Kay, director of Eastern Cares, said: "One of the greatest statements I've heard from one of our associates was, 'You not only care about what I do, but you also care about who I am.' And I thought, 'Wow, that is the essence of what we're after.'"
A Generational Shift
Eastern also pours that passion into its employees' growth. And forget age. There is no, "You have to be in this position for the next 20 years before you become an expert."
As Caleb said: "All you have to do is dive in, learn as much as you can, and be responsible. Show up on time. Be willing to do what they ask you to do, and if you're willing to do that, the opportunity will come a lot sooner. Put your seatbelt on is what I would tell you."
Matt Daniel, 26, is a branch operations manager, and he's a prime example of Eastern's willingness to invest in the younger generation, especially when those associates are eager go-getters like Matt.
"Being a Millennial, being younger, we have that reputation that we're not as outgoing or hardworking."
But Eastern's culture is all about people over profit. It's something each individual I spoke with echoed. It's on their website. It's the undercurrent of those 28 guiding principles.
It's the Eastern Way.
"When you think about it," Matt said, "You take care of your people, and then the people take care of your customers."
It really is that simple.
The Eastern Way
In today's world, when distributors are dealing with a myriad of challenges from finding quality people and navigating the Great Resignation to supply chain problems, when I see a company putting people before profit, I know that's really what that company is and stands for.
Business is profit.
But business is also people. It's also a culture of deep caring.
Eastern Cares has been around for 20 years and strives to accomplish the company's four Cs of caring: company, communities, country and other cultures.
They provide their people with the awareness of different outreach events and give them the time and space to participate, if they want.
"People like to help people," Kip said. "We just give them that opportunity for those who want it. We don't condemn anybody who doesn't participate. We just provide the opportunity."
As part of this mission, the leadership at Eastern has teamed up with a third party, the Chaplains of America, to give their associates a safe space to talk to someone, other than their manager, about problems they might be facing at work or in life.
"We want to care about our associates' mind, about their body and about their spirit.
Eastern isn't just a platform for the personal and professional development of their people.
They're a platform for the greater good.
If every distributor, every business, could define their greater good, imagine the impact that we could have on the world—by taking small steps towards helping others in the best way we can.
Watch this episode of We Supply America.
Meet the Noble Generation
In the stories we're telling in our 8-part docuseries, you'll meet leaders like Katie that represent the next generation of leadership – those who have embraced the Noble Calling of distribution. You'll meet distributors who are transforming their businesses and leadership styles to make a difference for their employees, customers, and communities. We hope you come away with renewed hope and optimism for what I truly believe is a bright future.
Follow these inspiring leaders who are taking the distribution world into the future. These authentic and energized individuals are leaning into the unknown, pioneering new ideas, and unleashing possibilities throughout distribution.