When CEO Julia Klein's son was 9, she and her husband decided the fate of their company, C.H. Briggs.
This distribution company has been independently owned for three generations. But the Kleins decided there would not be a fourth.
Instead, they set forth on a new path of professional management that would remove the family over time.
I think most people would then assume the business suffered. Why take risks or find the best employees if you know there's an end in sight to your involvement?
Yet, that's the farthest thing from what's happened at C.H. Briggs.
Not only is C.H. Briggs one of the largest distributors of interior specialty building materials, but they've gotten there by fiercely committing to their people.
They're committed to the growth of their current employees. And they are committed to the time and thoughtfulness required to attract the right young, talented individuals for the future of the company.
Every business has its own journey.
The leadership team at C.H. Briggs decided that their path, their journey is about doing business with a higher purpose. They get the right supplies to customers, when they need them. And those customers are building critically important structures, like the Children's Hospital of Philadelphia.
CH Briggs' people are the faces behind the spaces. 
This company personifies the future of distribution. Their success comes down to their people—and it's why we put them in the starring role in Episode 5 of We Supply America, our eight-part docuseries.
Faces Behind the Spaces
I love that motto: The faces behind the spaces. That's how C.H. Briggs views their team. They provide the supplies required to build spaces in the healthcare, education and home kitchen markets.
They're focused on enriching the lives of others inside their four walls – and within their customers' four walls.
From their suppliers and co-workers down to the community members served by these spaces, all of these supplies on C.H. Briggs' trucks are used to transform buildings in which people heal, work, learn and play.
"We provide products that enable community. When I say community, I mean architects, designers, builders, fabricators, to end-users," President and COO Jonathan Peters said.
How does the way you work change knowing that you're doing something important?
"We simply call that our higher purpose. It's not just about the products," Patti Rowland, Chief Experience Officer, said to me. "Why are we here? We're here to help those buildings get made, that help people do everything they do in life."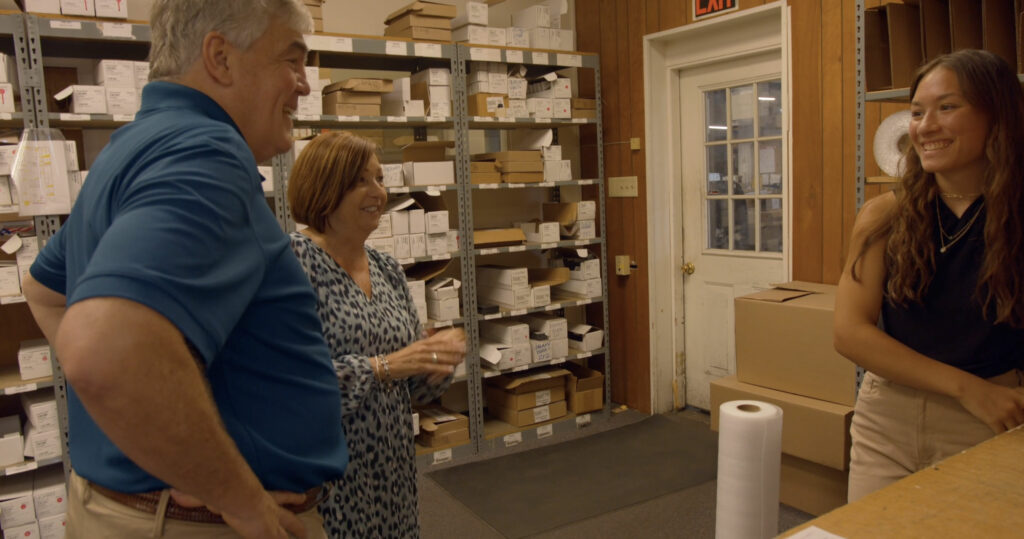 Culture of Caring
As I walked the halls of C.H. Briggs and spoke with individuals from every department, warehouse floor to the CEO, I realized that their purpose extends beyond customer satisfaction.
It goes into the support, respect and encouragement of their own people.
Emily Delucas, manager of customer care, just celebrated five years with the company. Before, she was working in a role at a company with hundreds of people—and she knew only few people's names after all that time.
In the five years she's been with the C.H. Briggs family, Emily has moved up three times to land in her current role.
And the only reason she did so was because her supervisors encouraged her to. Because her supervisors saw greater potential in her than Emily even realized she had.
"No one's going to let you stay stagnant here. If you want to grow, somebody will find you. I don't know if I would've ever been brave enough to make myself uncomfortable the way initially stepping into a supervisor role did. Patti was brave enough for me, and I'm really grateful for that because I really don't know if I'd have done it on my own.
"Sometimes you need your leader or your coach to be brave for you. You can't always show up every day with it, so you have to make sure someone else can."
I found this desire echoed in our research, "Reimagining Leadership." When asked what they were looking for in a job, respondents answered with: to be challenged and grow, advancement in my job and career, responsibility and ownership of results, sense of pride, and enjoyment and sense of purpose.
Darcy Stubblebine, customer service manager, has been with C.H. Briggs for 38 years. She witnessed the construction of their current location, large placard out front and all.
Just talking about that transition made her emotional — and I felt that rawness, that sense of pride from our conversation. She said just thinking about that moment could make her cry from how proud she was to be a team member at C.H. Briggs.
Not just because of the success of the company and the familiarity with which she knows everyone: She's proud to be at C.H. Briggs because of their culture of caring.
"Everyone encourages you to take the next step. We're all here for each other. You're not an island on your own."
A Warehouse Party
You know what I stumbled upon in the warehouse at C.H. Briggs?
People having fun.
The day I stopped by, there was a taco truck out front for lunch and an ice cream truck arrived later.
I met fulfillment center associate and deejay, Jason Sanders. Jason is known for playing his favorite tunes in the warehouse to put a smile on everyone's faces while they're working.
"The music helps motivate me throughout the day. It seems to motivate the rest of my coworkers, too," he said as a song by Earth, Wind and Fire rang out. "When people come out here, they hear the music, and it makes the eight hours go by pretty fast."
So, what's the secret sauce? Everyone seems so happy to work at C.H. Briggs.
How can other distributors bottle this up?
What Darcy said next was powerful:
"The culture here is not how it has to be; it's how we want it to be."
The golden rule. Treat others like you want to be treated. Build a workplace that you want to work in.
That's the secret sauce. These guys are not machines working mindlessly toward a bottom line.
"I feel successful when I continue to wake up every day, excited to come to work. Nine hours in a day, including my commute, is a lot of time, and I want to spend that time somewhere I'm truly happy to be and excited to be every day," said Jenny Goldstein, human resources associate.
A Hard Commitment to Leading—Softly
"Early on, I would say this was a very top-down type of leadership model with hierarchy-specific roles. But over the years, it's much more matrixed and fluid-type of leadership to me."
In saying so, Luis Arias, Chief Growth Officer, was describing an evolution into recognizing that we're all humans – working with humans. Controlling and managing are antiquated forms of leadership today.
"Leadership goes across the entire organization … You want leadership to come from within the business, so really getting people to feel confident, willing to speak up, willing to have great ideas and not feeling judged. To me, leadership is soft now."
Soft is not weak. Soft means CH Briggs is putting humanity at the core of leadership, which is necessary to build a sustainable business today – which is what Julia wants to create, for her team. She wants to leave the business stronger than when she found it.
Part of that is a hyper-focus on the personal and professional growth of their team.
Jonathan said: "It's focusing on the right people in the right roles…then enabling them, giving them the tools they need and empowering them. When we focus on the co-worker and customer experience, and we talk about that higher level purpose, well you can define customer in many different ways. We think about it more as a community because it starts with those that create the demand and specifications. It's working with the owners to make sure they're getting what they want to accomplish…all the way down to the end-user."
Julia echoed him. "What we're building here is to create the kinds of jobs and growth where all of our co-workers can create the lives they want and to celebrate and help our customers build the kinds of lives they want for themselves, their families, their co-workers and their end-users."
That belief, that determination, requires courage, and it's an example of leading—and distributing—with a higher purpose.
This is what all distributors are being called to do. Let's go down this path, together, because this commitment to bettering people's lives, from our employees down to our customers' end-users, that is one of the many superpowers of distributors.
And that is what we're highlighting on We Supply America.
Watch the C.H. Briggs episode of We Supply America.
Meet the Noble Generation
In the stories we're telling in our 8-part docuseries, you'll meet leaders like Katie that represent the next generation of leadership – those who have embraced the Noble Calling of distribution. You'll meet distributors who are transforming their businesses and leadership styles to make a difference for their employees, customers, and communities. We hope you come away with renewed hope and optimism for what I truly believe is a bright future.
Follow these inspiring leaders who are taking the distribution world into the future. These authentic and energized individuals are leaning into the unknown, pioneering new ideas, and unleashing possibilities throughout distribution.