L&R Distributors' distribution center is nothing short of magic.
Somewhere in the world, someone orders a tube of Chapstick. That order, placed at a customer of a customer, (and many others like it) spurs a chain of reaction that results in a robot picking Chapstick, sending it through the system to the packers to get boxed, then loading it on a truck to arrive on time without damage.
That happens every day, all over this country. And I still don't get how.
It's magic.
Because it's so mystifying to me, I thank professionals like Cynthia Ortiz, Assistant Distribution Center Manager at L&R Distributors for choosing distribution as their career.
"The job these robots do is very exciting," Cynthia told me. "They do the job at a wonderfully safe, but fast pace. They help us fulfill our customer orders on time every day. We've been doing really well. For example, we haven't had split shipments and that makes our customers happy."
She called it the "life of the box."
"If we don't receive an item quick enough, if we don't put it away quick enough, or pick it or ship it quick enough. That's not good. That's the life of the box. It comes in and it goes out, and we're having fun doing it. You see everyone's morale is good. There's great energy here."
Sheer excitement exuded from Darwin Cresspogallegos, Distribution Center Manager when I asked him what he loves more, the technology or the people.
"I love the technology. It's the future. But what excites me every day, it's the associates. Connecting with associates, working hand in hand and solving the challenges we run into, that's what make the job worthwhile. It's those little wins that feed me and keep me motivated."
What all that technology really comes down to, Darwin said, was building the ultimate customer experience. "We make their job easier and smoother. If you can't get excited about that, you're in the wrong industry."
But the secret behind L&R's success isn't their automation. It's the people that power the distributor of health and beauty and general merchandise to supermarkets, drug stores, military exchanges and other retailers. And they are the focus of Episode 8 of our eight-part docuseries, We Supply America.
Reaching New Heights
You might remember me telling you about a forklift operator by the name of Adela Perez Marin who I first met in January. I was lucky to again have a minute to talk with her about her role at L&R Distributors.
Though I'm not sure I have ever been more nervous during a conversation.
See, I don't like heights.
Yet, Adela had me don fall protection, clip in and board her giant lift truck. As she expertly maneuvered this huge piece of equipment and began our ascent, she shared her pride.
"I thought only big, strong guys could drive these forklifts. I'm proud of myself."
When we reached the top of our climb and I looked out over the massive warehouse, it all made sense. From that vantage point, I could see why she was proud.
I could see why this mattered.
I asked her what she would like to say to Tony Harris, Director of Operations at L&R, the person responsible for providing Adela with this opportunity. She said, "He saw what I didn't see. He saw that I could do it and that gave me strength. If he said I can do it, then I can do it. I had to prove it to myself. I can do more. Thank you, Tony."
She's not alone. David Mulligan, Inventory Control Supervisor, told me L&R Distributors saw the potential in him, as well.
"I feel like I'm part of the family here. I wake up every day grateful that I get to come here. I've been a part of companies before that didn't even know your name. They treat you like a number. Here, they know my name. They check in with me to see how I'm doing, not just how the company is doing. But to see how I am doing. To me, that means everything.
"They're genuine. I see the growth and the potential for more growth here, and maybe even within me. I know there's no giving up. I know they believe in me as much as I believe in them."
Built on a Foundation of Family
The human resources department has resolved to keep this feeling alive.
Jonathan Banegas, VP of Human Resources explained:
"You're the voice of the people. It pays dividends. Employees don't want to leave; they feel heard. They can feel safe knowing they can be themselves. If something goes wrong, they know they have the HR team to go to. Psychologically, that makes a huge difference to know there is that kind of culture, one that is supportive of all the positives and negatives that go on in someone's career."
The glue?
"The family environment. I'm emotionally invested in seeing Adela become a lead. We're going to celebrate it as if Dirk was here. We celebrate the little wins the same way we celebrate the big wins because we are invested in everyone's success."
Because at L&R Distributor, everyone can L.E.A.D.
Listen and learn.
Engage.
Appreciate.
Decide.
Marc Bodner, CEO, told me that it doesn't matter the role, title or tenure, everybody in the organization can have the attributes of a leader when they follow that acronym. Those attributes translate into an ownership mindset that ultimately improves the earning potential for the company and the employee.
"We're going to give you the opportunity to be an entrepreneur. They get paid for what they produce. You'll see people come up with system modifications we didn't think of."
Brilliant.
To David Faust, Vice President of Operations, that means families can provide those same opportunities to their kids. "I've seen so many people realize they can make a very good living for their family. L&R is a company that provides those opportunities regardless of who you are. It's exciting to be part of that growth for someone's family. You're giving someone's kids access to things they may not have had access to. You're giving an individual confidence they never had."
Servicing the World One Job at a Time
From product fulfillment to merchandising and logistics, L&R is bent on breaking molds and challenging the status quo with one goal — to create the perfect customer experience and a work culture like no other.
One way L&R innovates is through automation, but when it comes to the need for humans, David Faust is clear. "I've never viewed (automation) as taking work away from people. The jobs that automation eliminates are ones that people don't feel purpose or passion in. But at the end of the day, none of this equipment runs without people supporting it. This will always supply jobs, just a different kind of job. It's a little bit more thought work than it is physical labor.
"We're all a team on this planet and together we service the whole world, especially in this global economy. All robots are doing is freeing up our time to go work on other things that make our output more efficient. We're giving people comfort and stability in this world."
What a mission. We could certainly use comfort and stability during a time of so much confusion and change.
Disruption is often couched in four letters: V.U.C.A.
Volatility
Uncertainty
Complexity
Ambiguity
To say the world is rife with V.U.C.A. right now is the understatement of the century. 
"We are the anti-VUCA," Marc said. "We take volatility and create stability. We take uncertainty and create certainty. We take complexity and create simplicity. We take ambiguity and create clarity."
Powerful.
But what he said next, left me with a visual I can't shake.
"It's like you have this cliff on one side and a cliff on the other, and between them, you need a bridge. We are that bridge."
Innovation and humanity build bridges.
At each stop on the tour, I am reminded that businesses like this one do more than provide a job. They can unleash the human spirit, to help people fulfill their potential and live a rewarding life.
If I'm honest, it was like a homecoming the moment I drove my RV through L&R's warehouse doors.
The last time I was here, I helped to relaunch the intentional culture of Ignite: The L&R Way.
This time, we had a dance party aboard my RV.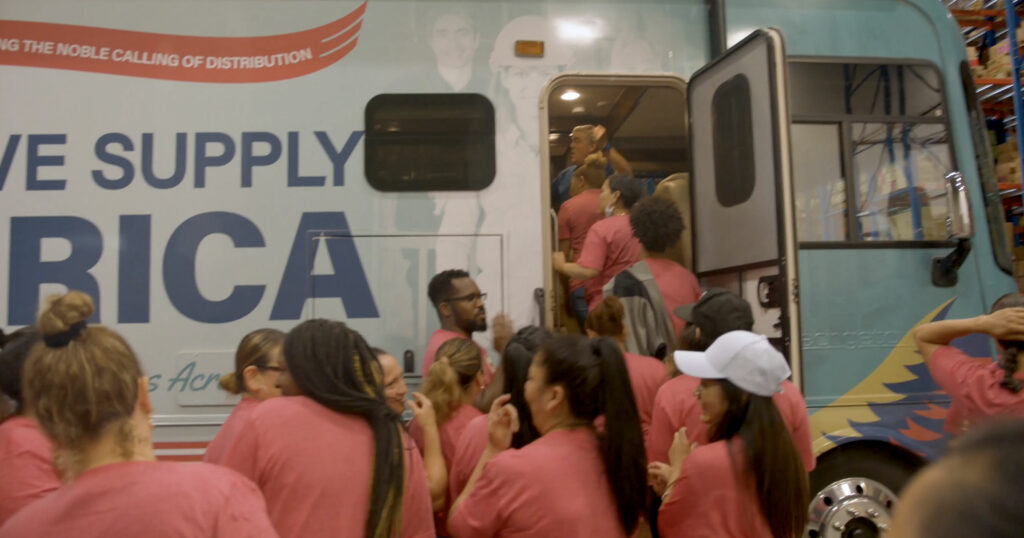 What I experienced was beautiful — the family atmosphere, how people genuinely love each other. This is the goodness of the distribution businesses I've visited, the ones who care so deeply for their people.
And I have to tell you something, after our impromptu dance party, I was completely invigorated.
These individuals, the way they came together, the energy, their love for each other, their love for this business, the excitement around We Supply America and what it stands for, what they stand for, I gotta tell you — their spirit has been unleashed.
On our visit, we were just a tiny spark. But the people fuel that fire every day.
I left with a full heart because of what this company is committed to. Of course, they're committed to the bottom line in a big way. But they're committed to another bottom line just as much. And that's their people. They're creating an environment and a culture that focuses on the human spirit.
Go unleash the human spirit with everybody you meet. It will make our businesses and the world a better place.Watch this episode of We Supply America.
Meet the Noble Generation
In the stories we're telling in our 8-part docuseries, you'll meet leaders like Katie that represent the next generation of leadership – those who have embraced the Noble Calling of distribution. You'll meet distributors who are transforming their businesses and leadership styles to make a difference for their employees, customers, and communities. We hope you come away with renewed hope and optimism for what I truly believe is a bright future.
Follow these inspiring leaders who are taking the distribution world into the future. These authentic and energized individuals are leaning into the unknown, pioneering new ideas, and unleashing possibilities throughout distribution.