Robert Weed is a third-generation, family-run business with deep-rooted connections to their employees, their community, their suppliers and customers.
They've experienced consistent growth. Strong numbers. Satisfied customers.
And yet in 2020, before the pandemic began, the leadership team at Robert Weed looked at their 55-year-old company and decided it was time for a total transformation.
One focused on their people.
So, they went to work.
They created a three-year transformation plan called the Roadmap to the Future, which focused on four pillars. The first three were Operational Excellence, RWC Success Academy, and Growth Strategy. The fourth was a Winning Culture.
With their plan, they are doing more than just outlining the path forward, they are operationalizing it.
Honor the Past, Build for the Future
To tell this story, we must go back in time.
Founder Robert Weed was a plywood salesman in Akron, Ohio. His office was a wood-paneled station wagon from where he sold plywood and earned the respect of his local community. At the time, the manufactured housing and cargo trailer business was booming, and the recreational vehicle market was just beginning to take hold in Elkhart County, Ind.
So, Robert followed his gut and set up shop to serve these growing markets – quickly growing his own business in the process.
As the company grew, Robert never lost sight of the value of relationships.
Those relationships mattered to Robert.
His grandson Will Weed, who is now CEO, recounts how much:
"He could tell you anything about any of the team members, their families, or where their kids went to school."
Three generations later, Robert's signature is now emblazoned on their buildings, letterheads, and hearts to serve as a symbol of their renewed commitment to their customers and each other.
A testament to what Robert Weed built. And what he valued. Robert Weed Corp. is a part of the Noble Generation, being called by a higher purpose that goes beyond the bottom line. They are the second company featured in Season 2 of We Supply America's docuseries. Watch Robert Weed's story now.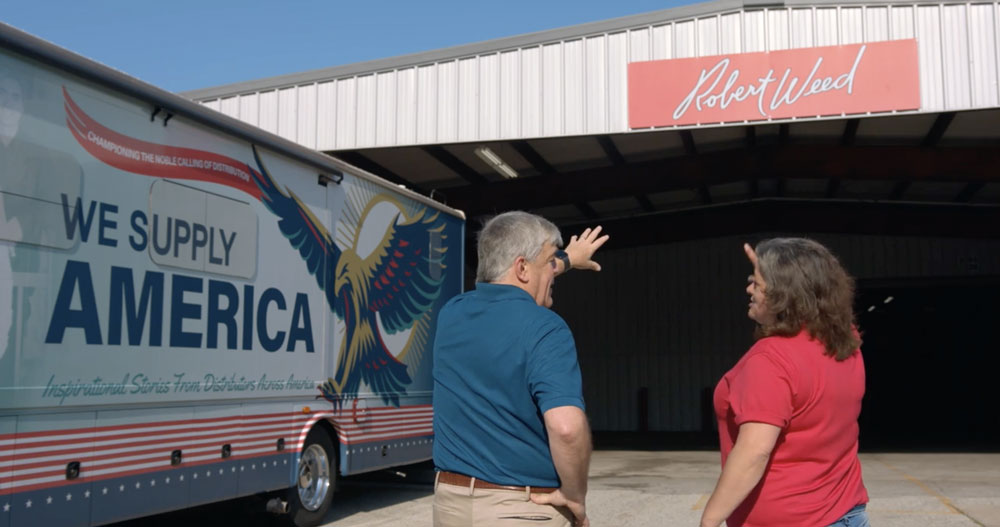 The Catalyst for Transformation
Over time, despite record growth, Robert Weed needed a cultural reboot. Will describes the company's quest for transformation as a reinvestment in its culture and its people.
He calls it their "2.0 Transformation."
But it's not about their bottom line.
"It's about the sustainability of our business, keeping people employed, and creating equilibrium both in our markets and our personnel."
People have been under strain the past several years. While businesses largely got back on their feet again after the initial hit of the pandemic, stress and anxiety lingered for their people. Working remotely. Becoming stay-at-home teachers "on the side." Fear for their safety. The list goes on.
As one survey respondent told us for our new report, "Reimagining Leadership":
"Our teams and people have endured so much themselves, that they are not the same."
The disruption of the past few years has had a more enduring impact on the individual than it has on the business as a whole.
Robert Weed's leaders believe it's their responsibility to help relieve some of that pressure. "Our industry used to be confronted with major events every seven years; now it seems to be every 18 months or every two quarters. How do we work collaboratively with our supply partners and end-users to create some stasis to that we can treat our workforce better?"
Will is adamant that the answer must go beyond the workday; they must build people in other meaningful ways. "We need to provide more fulfillment within every single individual within our organization."Ninety-three percent of distributors in our research agree with Will that the human element must play a critical role in leadership going forward.
Humanity is at the Core of Transformation
Margie Rodino, Chief Culture Officer at Robert Weed Corp., says that Robert Weed's leaders aren't all talk. They have supported every idea she's had to drive transformation in their workforce.
"It's about building a culture around what it takes for every employee to feel good about the work they are doing and the contributions they are making."
Our research suggests Robert Weed is on the right path. This is what we found:
Over 81% of distributors surveyed agree that employees' desire for better work-life balance has impacted operational decision-making. And another 83% acknowledge the pandemic was the catalyst for increased pressure, stress and self-reflection among their people.
The fact is, leadership is being asked to pivot. Leadership must shift to a service role — one where leaders develop their people both personally and professionally.
"We've heard over the years so much talk about work-life balance," Margie told me. "That is so important. But what are you doing about it? What is the actual strategy?"
Robert Weed started with voluntary biometric screenings for any staff who wanted to take part. Not only did the screening offer individuals baseline health information, but it also offered insight into their stress levels and mental well-being.
Why is that important?
For Margie, it's simple. "It's easy to see someone with a broken arm. It's not as easy to see someone with a broken heart."
The screenings and feedback from employees provided the insights they needed to meet the people where they are. Employees don't want to work in the same way that prior generations wanted to or were even expected to. "There are fewer individuals in the workforce now, you can talk about the Great Resignation or the Great Regret, but the reality is fewer people want to work the way that our Baby Boomers worked. Fewer people want to work in the environment of 'my whole world is this job'."
It's been a long couple of years with a lot of change, and life probably won't go back to what we used to think of as normal. A foundation of Robert Weed's transformation is a focus on their employees' whole selves. One way Robert Weed does this is by providing leadership and life-coaching programs to their employees to improve their emotional, physical, mental, social and financial well-being.
This is about more than perks. This is about building a foundation.
When I visited Robert Weed, I joined one of the life coaching sessions. Standing in the back of the American Legion Hall where Robert Weed's employees filled the seats, I listened.
"It's hard to make decisions in your life that reflect and align with your values," Julie Stenberg told them. "And before long, you sort of understand that you are living a life that was sort of accidental. You just fell into this and accepted what you grew up with or what has been presented through situations and circumstances.
"And now you're here and not exactly thrilled with what you've got. So, what do you do now?
"You're a grown-up and have choices, but you don't know how to make those choices because you haven't looked at yourself and your core values in a good long while. So, it's one of the things that we're going to talk about today."
Robert Weed wants to help every individual grow – it doesn't matter what role they are in, what their title is or how long they've been there. They want to help individuals fulfill their potential in and outside of the walls of the company. This was the first time I've seen a company that has invested in their entire employee population by providing life coaching.
Robert Weed has also adjusted vacation time and time-off policies to provide more flexibility – recognizing that work-life balance has become more like life-work balance. They also changed how they structured their work week. They went to five shifts, with five different start times to accommodate real life. One shift appeals to the primary caregiver in a family (usually, the mom) and goes from 9 to 2 so that kids can be dropped off and picked up. That means the stress of finding childcare for those awkward hours before and after school falls away.
Steven Ramel, president at Robert Weed, is adamant that people come first in the organization and a top-down approach doesn't work anymore. "We completely turned the pyramid upside down."
He likened leadership to a basketball game, either as a player or referee.
The first thing you have to figure out is your role and how you contribute to the game (rather than detract with your ego).
The second: communication.
Like a referee, you need the confidence to blow the whistle, make the call and go.
And third: how to maintain your emotional intelligence. Every minute of the game – of business – you have to evaluate the plays coming your way, adapt and ensure that your customers and employees stay happy.
It's all about teamwork.
Steven defines transformation simply: the ability to do things differently. He admits it may be uncomfortable at times. The improvements have to be continuous. And leadership has to be challenged without reprisal.
Before, he recounted lots of operational improvements. Customer satisfaction was improving and so were the financials, but there was one thing he knew must improve.
The morale of their teammates.
Employees were walking around with their heads down, shoulders slouched.
"How do we help our employees feel good about working here? What are the keys to motive? If we don't have that motivation in our colleagues, you can't delight the customers," Steven said.
The folks at Robert Weed Corp. have embraced this transformation and it shows on the faces of its team members.
They feel supported.
They look forward to the future.
They walk tall.
It is possible for an employee to truly love and I mean, love a company. In my time spent with companies like Robert Weed on the We Supply America tour – in the heartland of the economic engine of this country – I saw it more than I thought I would.
These businesses truly and deeply care about their employees, and because of that care, these companies are providing opportunities for individuals to grow, to flourish, and to fulfill their God-given potential. And that is noble as hell. And is truly something that sets these businesses apart.
Watch this episode of We Supply America.
Meet the Noble Generation
In the stories we're telling in our 8-part docuseries, you'll meet leaders like Katie that represent the next generation of leadership – those who have embraced the Noble Calling of distribution. You'll meet distributors who are transforming their businesses and leadership styles to make a difference for their employees, customers, and communities. We hope you come away with renewed hope and optimism for what I truly believe is a bright future.
Follow these inspiring leaders who are taking the distribution world into the future. These authentic and energized individuals are leaning into the unknown, pioneering new ideas, and unleashing possibilities throughout distribution.