Did you know (because I didn't) that two-thirds of what fills our country's landfills is packaging?
Rocket Industrial wants to do something about that.
The packaging distributor wants to package with less.
They have the noble goal of eliminating 1 million pounds of waste from landfills each year.
This company is driven to be a force for good in the world — a force for good for their employees, for their suppliers, for their customers and for their local communities.
The narrative of business in this world is that profit is bad. But I say that profit is noble because that profit is what allows the Rocket Industrials of the world to exist.
"Packaging is taking everything to its proper place hopefully on time and without damage, and a world without packaging is a totally different global economy. So, we take responsibility. We're on the front lines of helping our clients make those decisions to package with less," President & CEO Ryan Gallagher told me.
And the less doesn't have to just be the material, I learned. It can also be less labor and less cost—all of which also benefit their customers, some of which they've had for 20 or 30 years.
This determination to make a difference is steeped in Rocket's history. During World War II, the founders of Rocket Industrial – Ray and Marie Goldbach – served their country. Ray was in the South Pacific, and Marie was a Rosie the Riveter type who worked for Boeing in Seattle.
When they returned, they married and started a packaging tape business in 1957, working out of her mother's house.
They started serving their country in another way—by being distributors.
This company has been family-owned and fiercely independent from the start. Ray was the sales guy —armed with a charming personality, and Marie was one I would have loved to have met. She's described as having the grit, fortitude and wisdom to see their business idea through.
When I asked Ryan what his grandmother would think of Rocket Industrial today, especially surviving as an essential business during the pandemic, he teared up — and I almost did, too.
After a pause, he replied:
"It's a family business. She would've been very proud of the team of the people that we have."
Not the profit, not the success and awards—but the people the company has attracted and cared for over 65 years.
And even after almost seven decades, the business is still growing. Although Marie passed away a few years ago at the age of 99, her family has kept Rocket Industrial alive and transformed it into a packaging company with a mission for sustainability.
Episode 3 of Season 2 of We Supply America docuseries tells their story. Watch it now.
Fiercely Independent
Ryan described his grandmother, Marie, as a friend and business mentor. Within five minutes of being together, she would always ask him about the business, even in her final years, and keep tabs on the employees.
"She was really happy when the family members came back to work for her," he said.
Marie had several guiding principles she used in business, and one of her mottos that stuck was to "put people in positions to succeed, trust them and get out of the way."
I love that. Place people in the role that best suits their unique skills and aspirations, provide the support they need to accomplish their job, then leave it to them—the experts—to do the work that needs to get done.
Although everyone at Rocket Industrial needs the benefits their jobs afford, the company goes beyond the regular paycheck.
They offer $5,000 to each employee (you read that right: to each employee) every year (every year!) for professional development. Whether someone wants to get another degree or upskill in a particular area, attend a conference or simply buy a book, Rocket Industrial happily supports their decision to learn and grow as teammates.
Ashley Groshek, director of human resources and talent, felt stuck before she joined Rocket.
"There wasn't much room for growth or opportunity (at my last job), and I'm not someone who can remain stagnant in my role. I like to be constantly challenged, so I want to help those at Rocket who feel like they want to take their career to the next level, too."
To provide that level of support, Rocket Industrial had to do something noble.
They had to flip the script on how they view their hierarchy of relationships.
Customers are important. They've kept the business going for almost seven decades.
But no distributor would be where they are today without the hard work, dedication and commitment of their employees.
So, Rocket put their employees on top.
"It's always going to come back to the customer. Are you creating real value for your customer? That's the golden thread, but what sits underneath that and supports that is you have to be doing things that create a good work environment for your team," Tony Miller, strategic initiatives consultant, said.
Tony shared the wisdom of Bob Chapman, the CEO of Barry-Wehmiller. "You have to flip the whole dynamic. … It starts with your employees because they're going to deliver a product that makes the customers happy. That will then make the investors happy. So, underneath all of that is the team, and that part of the thread is are you creating an environment where the team can thrive and truly provide the value that the customer needs?"
The answer to that question goes back again to Marie's guiding principle.
Allow people to pursue their passions.
Then trust them and get out of their way.
A Distribution Company for the Future
"Fail fast, fail early, fail often."
"How is the sky the limit, when there are footprints on the moon?"
"Pause if you must but don't stop."
These are among the many sayings that line the walls of Rocket Industrial, empowering their employees as they pass by.
At Rocket Industrial, I heard story after story of their commitment to doing bold things. To pioneer. To be out front. To lead their customers to a better future.

And to push the industry forward.

And what surprised me was their humbleness in the face of these aspirations. There was no false sense of ease. In every conversation, this noble team acknowledged the struggle for innovation and pioneering.

Because innovation and pioneering are hard.

Deep thinking and challenging assumptions are hard.
One of my seven ethos coming out of last year was that profit is noble.
Consider a company like Rocket Industrial, always searching for ways to help their customers cut waste, fund their employees' professional goals and even giving back to their local community. For example, they moved their offices to downtown Wausau to support the revival of the area.
They couldn't achieve these ends without the means.
Profit is noble because it supplies and supports opportunities to infuse humanity into business.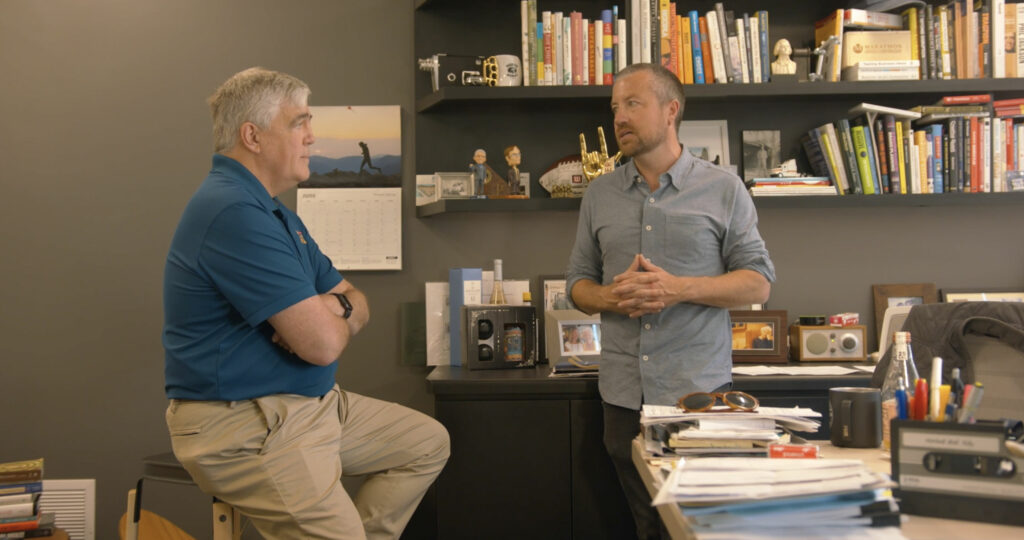 "We're here to make a difference in the industry that we serve. We're here to make a difference in the communities that we work in, and we're here to make a difference in the lives of those we work with. I think that great businesses are forces for good in the world."
That's Ryan's take, and I agree.
Remember during the pandemic when only essential workers were allowed to leave their homes and keep our country running?
The folks at Rocket Industrial were essential.
We wouldn't have the goods that we do in this country without distributors like Rocket, paving the way forward toward a greener world.
Watch this episode of We Supply America.
Meet the Noble Generation
In the stories we're telling in our 8-part docuseries, you'll meet leaders like Katie that represent the next generation of leadership – those who have embraced the Noble Calling of distribution. You'll meet distributors who are transforming their businesses and leadership styles to make a difference for their employees, customers, and communities. We hope you come away with renewed hope and optimism for what I truly believe is a bright future.
Follow these inspiring leaders who are taking the distribution world into the future. These authentic and energized individuals are leaning into the unknown, pioneering new ideas, and unleashing possibilities throughout distribution.