When a severe storm system recently ripped through North Dakota, utility poles fell, and half the state was without power.
It was a big deal, affecting thousands of people's lives.
The Dakota Supply Group team jumped to action.
"We met at the office, put a plan together for our team, executed that plan and had a truck on the road by 4 a.m. that Monday," said Cameron Pederson, Regional Sales Manager in North Dakota, at Dakota Supply Group.
They didn't bat an eye. They went straight to work.
What drove that passion – that immediate action?
Because Dakota Supply Group is employee-owned, they all had a real stake in making sure their utility customer could help their own customers. And to help the state get back up on its feet.
"That's the benefit of an ESOP," said Cameron. "Everybody cares. The customer is going to get taken care of because everybody cares about their success. It's a group effort. It wasn't just me; it wasn't just the account manager coming in and having to do everything. It was a team that made it happen.
"The customer then came back and said, 'You have a customer for life.'"
That's powerful.
And it all started when, back in 1991, four key employees invested their entire life savings, and another 34 employees cashed in their 401K investments, to buy the company back from a large industrial manufacturer.
They were building on a solid foundation. Born in 1898, Dakota Supply Group has thrived over the past 124 years, serving contractors and their communities throughout the Industrial Revolution, two World Wars, the Great Depression and most recently, the COVID-19 pandemic.
What began as a small plumbing supply house by the name of Fargo Plumbing has evolved to support the plumbing, HVAC, electrical, waterworks, telecommunications, utilities, onsite sewer, well and water industries with the products, support and services they need to drive their communities forward.Their story is featured in Episode 4 of our eight-part docuseries, We Supply America. They epitomize the Noble Calling of distribution that is at the heart of We Supply America.
Back in the Hands of the Employees
Jase Rosendahl, purchasing manager, was one of the people who put it all on the line to bring the company back to its employees.
He is a second-generation employee-owner of Dakota Supply Group.
In the expansive 10,000-square-foot customer showroom, he told me: "So many of us owe it to those people that took that risk. Through their blood, sweat, tears and a lot of years, we now have 850 people that are reaping those benefits. The risk they took provided generational wealth, and that's not to just one family or a billionaire. That's to the day-to-day working American that clocks in and out and works their butt off to succeed and help the company succeed."
Kristin Espelien, Sales Engagement Coordinator, agrees.
"It's more than just a job. We are here because our communities need us. I could do what I do at lots of other places, but I wouldn't want to because of the culture we have. We're in it together."
I asked Kristin if the ESOP makes a difference … "Does it mean anything?"
"To me?" she chuckled. "I'm part of the ESOP committee."
She explained that the ESOP is more than just part of a business plan. What she said next made a lot of sense.
That at DSG, it's not just about sitting at your desk, checking the boxes for your job. It's noticing what can be made more efficient. What can help DSG become more successful? How you can impact another department? It's about being able to see those things and bring those ideas to the table.
Companies don't change, transform or innovate.
People do.
"We own our success. DSG is successful because of all of us, not just an executive team sitting in a boardroom making decisions," she said.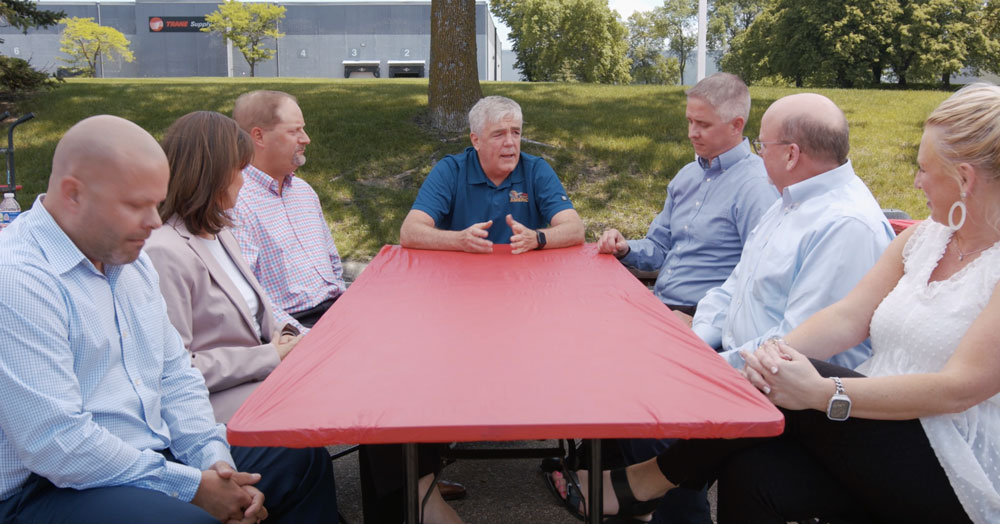 31 Years of Employee Ownership is Its Own Reward
Across this country, countless distributors are supplying America. I'm blessed to see firsthand the process of buying, breaking bulk, then picking, packing and shipping, all while making sure customers get the right products at the right place at the right time and the right price.
It's a marvel in itself.
But more than that, noble businesses like Dakota Supply Group help individuals fulfill their greatest potential and mobilize their dreams.
When I toured DSG, I didn't just see products on a shelf. I saw a business platform for the professional and personal growth of people. One that considered the individual.
Melissa Lunak, Chief Human Resources Officer at Dakota Supply Group, said it's important to meet people, both employees and customers, where they are. That's the "guiding star" for DSG.
"It's the lighthouse. You have to know that if you do not have these amazing people, what do you have? We invest in our people. We meet them where they are. We need to know where our people are. The pandemic, every single person went through it and they each have their own story of tragedy."
Now that we've emerged from that time, she said people are "level setting."
Re-evaluating what's important. "It's not just professional development. It's also personal development."
How does that play out at DSG?
One way is through their benefits package. Melissa explained: "When we look at our total rewards benefits package, we are consistently looking at every single person, in every single role to strategize ways that allow them to be successful."
Last year when I met Rich Martin, warehouse manager at Dakota Supply Group, I asked him why he's worked at DSG for 24 years. He told me, "I love what I do. I'm part of the crew. I'm a family member."
This time, standing in the massive 136,000-square-foot facility, I asked him what it meant to him to be a part of the company.
"I came a long way to be a part of a place like this, to be part of the writing on the wall. Rich Martin is the owner of this place. I have a stake here. This is my world."
I could see the pride in CEO Paul Kennedy's eyes as he explained that this distribution business did more than sell products. It created opportunities for every single member of the team, such as Rich.
"We came out of the pandemic much more human-centric and purpose-driven. There's more to this than just the bottom line. It's about how we build lives. How we build careers."
He then said, "The intersection between personal and professional development is more important today than it's ever been."
Coming out of the pandemic, people are re-evaluating their lives. They want meaning and they want to know they matter.
Our research report, "Reimagining Leadership" proves it. As one survey respondent told us: "The pandemic has redefined how people view work. People work because they need to, not because they have to. People work for the benefits it provides them, not for the benefits it provides the company. People work because they want to be part of something that enables their life aspirations."
The truth is, leadership is being put to the test and if your organization is not people first, your people will find one that is.
That's not the case at employee-owned Dakota Supply Group.
Cole Mercier, communications and engagement specialist, is still in the first quarter of his career. DSG's focus on the individual and a sense of ownership drew Cole from the sexy industry of biotech to the noble cause of distribution. "Everyone across the board, we all have a sense of ownership of how we do best for the customer and how we do best for each other. And do the best for who we're going back to at the end of the day — our families. We're a silent giant. I want people to feel pride in the world they live in and make sure they feel connected to their community. To say, 'Oh my gosh. The work I'm doing here is enabling all these jobs.'"
DSG is a company so diverse and impactful that it's changed the lives not only of its employees, but of its customers and communities for the better. Their work goes beyond a mission statement alone.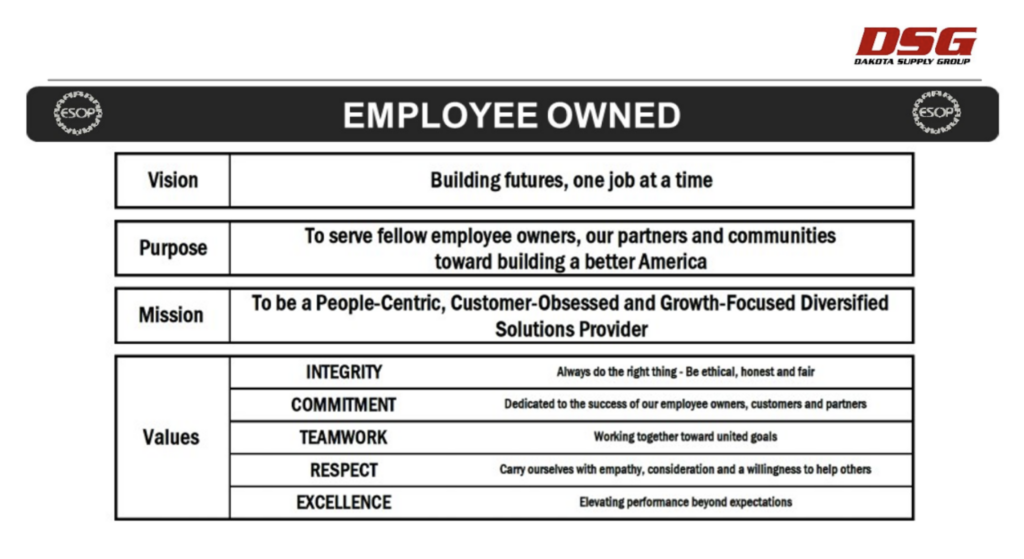 It's evident in the work they do for the community, such as their contribution to causes that improve the lives of others, and a fund that provides scholarships to youths interested in the trades.
Before I boarded my RV to set off on the remainder of the We Supply America tour, Paul left me with a few parting words.
"We are 100% aligned on our vision and our focus. When you have a group of people who believe in that aligned vision, it gives you the confidence and courage to move ahead. Courage got us where we are today. Courage will get us where we need to be tomorrow."
So many times in our industry, through the world of digital, we meet the customer where they want to be. But now, our industry is shifting to meet the employee or individual where they want to be and where they need to be. That's according to Mike Meiresonne, who shared that powerful take at the debut of Episode 4 of We Supply America.
DSG is doing the hard work. Treating 961 individuals as individuals is not easy to do at a company the size of DSG. But the commitment that this organization has to its people – ensuring they can be their best self at home and at work – is truly something we can learn from. This comes out loud and clear at Dakota Supply Group. Watch this episode of We Supply America.
Meet the Noble Generation
In the stories we're telling in our 8-part docuseries, you'll meet leaders like Katie that represent the next generation of leadership – those who have embraced the Noble Calling of distribution. You'll meet distributors who are transforming their businesses and leadership styles to make a difference for their employees, customers, and communities. We hope you come away with renewed hope and optimism for what I truly believe is a bright future.
Follow these inspiring leaders who are taking the distribution world into the future. These authentic and energized individuals are leaning into the unknown, pioneering new ideas, and unleashing possibilities throughout distribution.