Which path will you choose? Will you continue to perpetuate the myths associated with the distribution industry? Or will you choose to obliterate them?
It's time to decide.
Change Perspective, Change Outcomes: Distribution is Sexy
We must tackle the first and biggest myth that persists in the distribution industry head-on — the one that says distribution isn't sexy.
Sexy defined: Sexy means attractive, magnetic, desirable, different, fascinating, exciting, appealing, compelling, standout, and profitable.
Given this definition, when we repeat the myth that distribution isn't sexy, what we are really saying to up-and-coming professionals considering their career paths is:
"If you want an exciting and profitable job, don't look in distribution!"
We are telling potential manufacturing partners, "Distribution isn't that compelling, and we don't stand out. You might want to consider other channels."
This false narrative has been repeated so many times (even by ourselves), it has become hard not to believe. But who says distribution isn't sexy enough? And why do we perpetuate it?
When you allow "Distribution isn't sexy" to persist, it has a direct impact on your business from the top down. It hurts your:
Talent recruitment
Talent retention
Company culture
Marketing
Business strategy
"Distributors are our own worst enemy. We kill ourselves and denigrate our industries when we perpetuate that myth. We have this incredible industry, meaningful work, incredible people, great career paths, and growth. We need to recognize it and promote it to take our businesses to the next level," Bill Condron, CEO at The Granite Group, said.
"We need to fuel growth for our collective businesses. If you can't attract talent or have to overcome a false narrative to win them over, it makes it that much harder to grow your business."
(Watch The Granite Group's story.)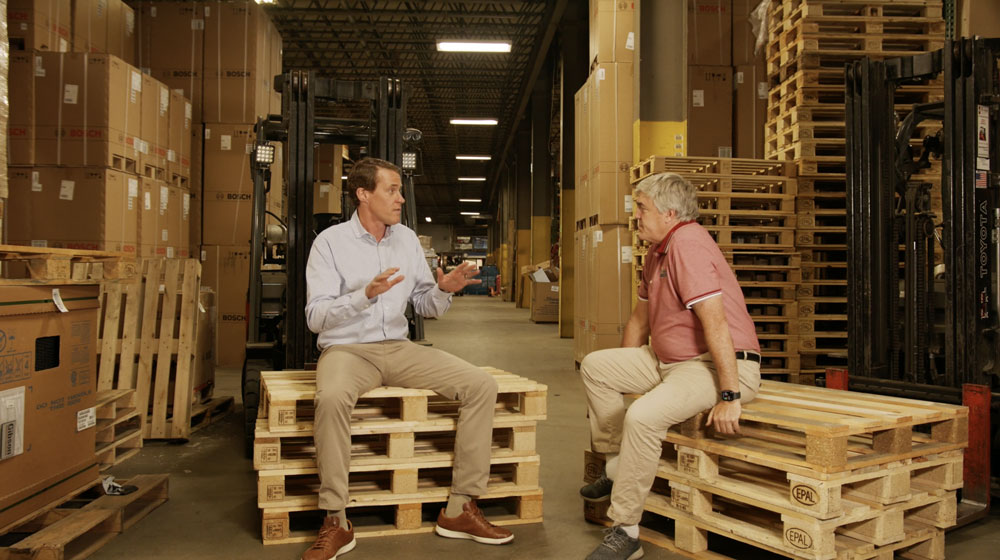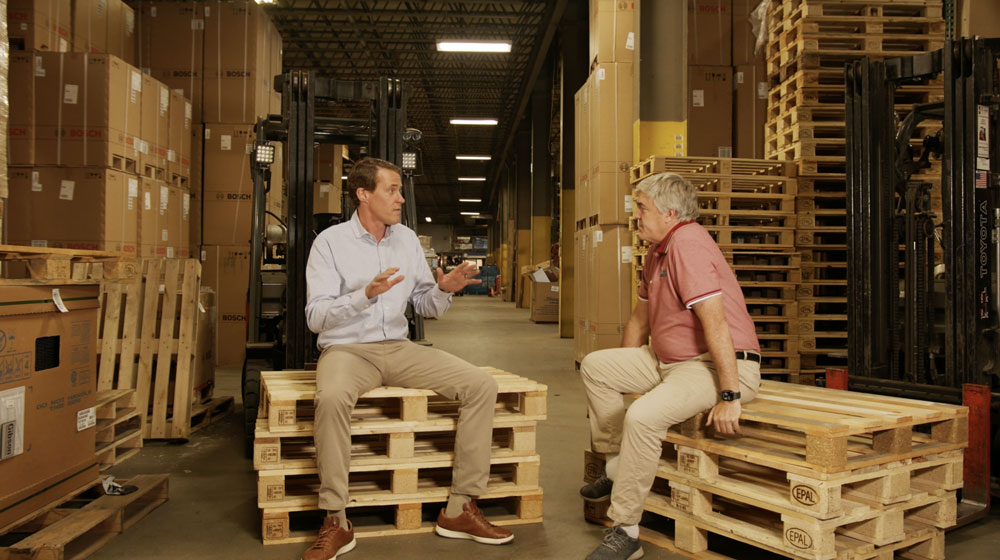 Where We Should Begin
Start by accepting that distribution is, indeed, sexy.
Not convinced? Distribution companies supply America with the products and services they need to the tune of $7 trillion (Source: MDM). That makes us the third-largest economic engine on the planet. The distribution industry is unique in what we provide to our customers, our employees and the world.
The distributor is the backbone of this country.
Last year, I traveled the country for 97 days meeting 34 different distributors as part of our We Supply America – Sea to Shining Sea tour. My heart is full of the people I met and their stories of leadership, challenge, and triumph.
What I witnessed firsthand was that these distributors have nothing to apologize for.
"The idea that distribution isn't sexy just belittles the industry," said Stephanie Porter, Director of Marketing & Brand at Porter Pipe & Supply. "It makes it seem as though we don't have an important role to play, and we know that couldn't be further than the truth."
As a result of my tour visits, I created Distribution's Sexy Scale, a tool and assessment for you and your leadership team. Here are the eight pillars of what makes distribution sexy:
Noble Calling
Rather than motivated by self-serving greed, as much of the narrative these days around business leans, the distributors I visited were focused on creating an important and tangible impact on society and held meaningful causes beyond just their four walls.
Vision
Not just relying on yesterday's successes, distributors are well aware of the changing nature of business. They are defining an inspiring and meaningful future reality.
Purpose
Rather than giving into the narrative that the businesses can't be trusted to do what's right, these distributors were clearly led by a true north, pulling them toward a higher calling and significance.
Culture
The distributors I know are grounded by foundational beliefs and values that add meaning to their employees' lives. They shun a toxic environment where everyone is out for themselves.
People
Rather than view people merely as assets to be maximized, these distributors were focused on the whole person to unleash the human spirit.
Innovation
Distribution has a reputation for holding onto "the way we've always done it." No more. The distributors we spoke with were inventing solutions that are helping both internal and external customers live a better future.
Results
The people at the businesses I visited were all focused on one thing: superior results, which are providing growth and more opportunity for more people.
Technology
Distributors are saying goodbye to the use of technology to monitor, manage or even replace humans. They're embracing technology that can help individuals do their jobs better and become more human through fulfilling work.
As a leader, you have direct control over how your business performs within these eight pillars.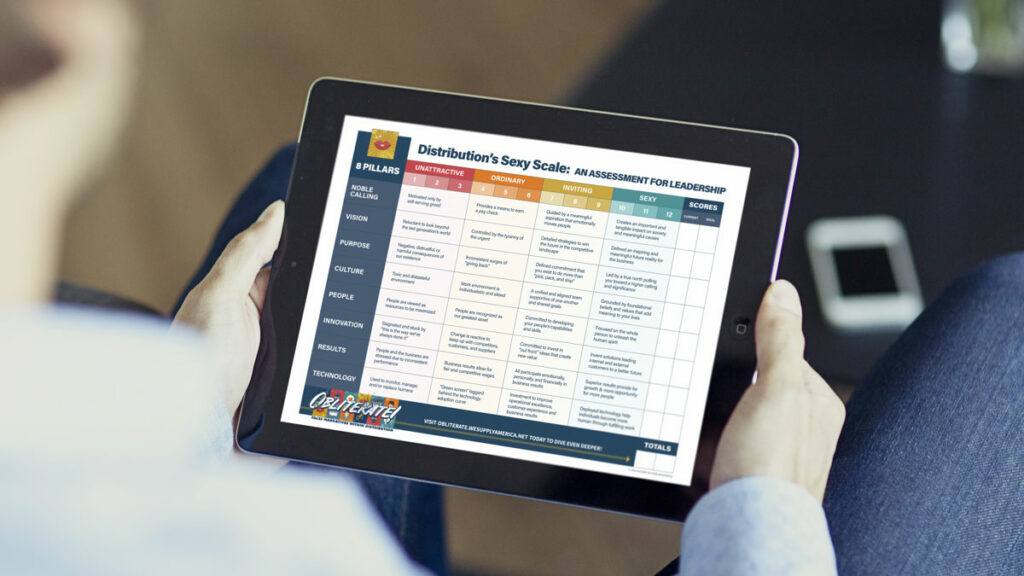 Modern Technology as a Tool in the War to Bring Sexy Back
Distributors are positioned as continually behind the curve, still fighting with "green screen" technology as they go up against Goliath. But that's rapidly changing.
And it's not just distributors and their leadership teams that have been hard at work changing the narrative. Some technology providers are also joining the fight.
Steve Levy, VP of Enterprise Architecture at Infor, has a long and storied history in distribution and understands the unique challenges the industry faces. In fact, his great-great-great-great-great grandfather started his distribution business 118 years ago. 
"Imagine how unsexy the world would be if there weren't distributors selling toilets, pipes, and toilet paper. There's a huge gap that would be established if distributors weren't bringing those products to the marketplace."
He never viewed the industry as something boring or unappealing.
"When I look down an aisle in a distribution center and see all the pallets flushed up and slots filled up, it seems pretty sexy to me."
Modern technology can be an important tool in the war against the myth that distribution isn't sexy. Gone are the days when old, hard-to-use technology was all that a distributor could get their hands on. "Distributors don't have to be embarrassed by outdated technology anymore. We show modern industry-specific distribution systems to prospects all the time, and what we have to offer is as hot and cutting-edge as any other technology out there."
Rather than focus on the myths, Levy believes the distributor should capitalize on another commonly held belief: that distributors are scrappy. Distributors negotiate, they are obsessively practical and single-mindedly focused on getting it done. It's their role in the supply chain. "When I look at the source of the misconceptions surrounding distribution not being sexy, it's because the outside doesn't understand our higher purpose.
"The dirt under the fingernail analogy is telling. If there's dirt, it's because we're doing the work to care for our customers. And caring for others is pretty darn sexy."
Brad Dennison, Country Manager and President at inventory management solution Slimstock US, also grew up in the distribution world. I asked him to offer some insights on how distributors can attack the Great Resignation head-on by helping change the narrative.
"You have to provide people with the right tools," said Dennison. "Amid the pandemic and a challenging supply chain, we also have the Great Resignation. Which is requiring companies to improve jobs for people and buy better tools to attract the right employees. The reality is the better the tool, the better people can do their jobs."
Break Free
Studies out of Vanderbilt have shown that if you say something enough – even if we know that it is not true – we start to believe it is the truth. It's called the Illusory Truth Effect. The false narrative that distribution isn't sexy falls into this category. It's up to us, as leaders in this industry, to acknowledge and own that fact, and then obliterate the myth.
The distribution industry is about more than just supplying products. Distribution is what drives this country, and the world, forward. You are the very fabric of our nation, businesses, schools, hospitals, homes and families, and the pandemic shined a spotlight on an undeniable truth.
And, as Porter said: "Perpetuating this myth belittles the people that are working hard, doing this meaningful work every day, whether they are handling the material, stocking shelves in the warehouse or driving the product to the end-user."
It's time to destroy the mental models that hold distributors back from adapting, surviving and thriving in today's market.
Here are three things you can do to begin obliterating this myth that distribution isn't sexy:
Acknowledge that the myth exists and start listening for it. Be prepared to offer your counter belief that you'd put the business of distribution up against any other business out there.
With your leadership team, use our assessment to identify your strengths and opportunities for improvement to ensure that your business is, in fact, sexy.
Build this conversation into your interviewing, onboarding, marketing, team meetings, and other opportunities to propel the narrative of the nobleness of distribution and the great opportunities within the industry.
Watch on-demand now: Obliterate! False Narratives Within Distribution: Distribution Isn't Sexy